Improving the Lives of Greenville County Residents
For Over 40 Years
Established in 1974, the Greenville County Redevelopment Authority (GCRA) works to holistically improve and revitalize homes and communities in Greenville County. We focus on providing affordable housing, building safe, accessible neighborhoods, and offering grant and loan programs for businesses. Through community partnerships and administering funds from the U.S. Department of Housing and Urban Development (HUD), GCRA works to build a better quality of life for the citizens of Greenville County.
Vision: Advancing the futures of Greenville County Citizens
Mission Statement: Secure resources and educate stakeholders to meet the needs of Greenville County citizens through affordable housing.
Mantra: Building Better Futures
Values: Communication, Creativity, Integrity, Respect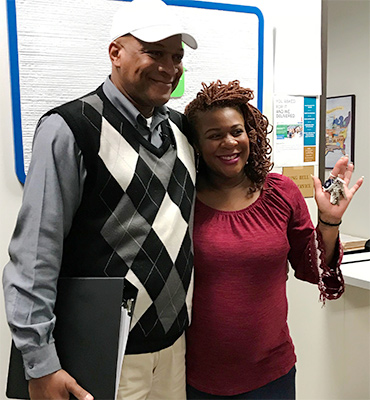 Notice of COVID-19 Funding Availability
FUNDING FOR SERVICES
Community Development Block Grant (CDBG- CV)
Emergency Solutions Grant (ESG-CV)
The Greenville County Redevelopment Authority (GCRA) announces the availability of funding applications for the Coronavirus Aid, Relief and Economic Security Act (CARES Act) for Community Development Block Grant and Emergency Solutions Grant. The funding will be used to respond to the impacts of COVID-19 in Greenville County. GCRA requests non-profit organizations that provide targeted services, particularly those that address rental assistance, mortgage assistance, medical protective and testing assistance, and food and nutrition assistance to apply for funding.
Both the CDBG and ESG CARES Act applications are available electronically by contacting GCRA Office at caresapp@gcra-sc.org. Application information virtual session will be conducted on Monday, May 18th at 10:30 am via Zoom meeting. Application deadline is May 21, 2020, at 1:00 PM Eastern Daylight Time. Applications must be sent electronically to the email address stated above. For questions, please contact Imma Nwobodu at (864) 242-9801, ext. 115, or by email at inwobodu@gcra-sc.org. Responses received after the deadline will NOT be considered.
Long-Range and Annual Plans
---
Consolidated Plan 2020-2024
The current five-year Consolidated Plan covers activities from July 2020 to June 2024. In the Plan, GCRA describes needs for improved, affordable housing and shelter for homeless persons, public facilities, services, and infrastructure.
The County's Consolidated Plan covers the cities of Fountain Inn, Greer, Mauldin, Simpsonville, and Travelers Rest, as well as all unincorporated areas of Greenville County. The City of Greenville prepares its own Consolidated Plan independently.
2020-2024 CONSOLIDATED PLAN
---
Other Resources
In addition to the Consolidated Plan, GCRA also prepares Annual Action Plans (AAP) and a Consolidated Annual Performance Evaluation Report (CAPER).
---
FY 2019 CAPER Draft Summary
The Greenville County Redevelopment Authority (GCRA) is preparing a draft Consolidated Annual Performance and Evaluation Report (CAPER) of actions taken under the County's 2015 – 2019 Consolidated Plan for its U.S. Department of HUD programs. This report summarizes progress and accomplishments made from July 1, 2019 to June 30, 2020. Comments on the report will be accepted by GCRA for review and submission to HUD through December 31, 2020. A Public Hearing will be held on the draft CAPER on Monday, December 28, 2020, at 6:30 PM, via Zoom. For further information on how to participate or inquires please contact GCRA at (864) 242-9801.